Storage / Drying Cabinet Validation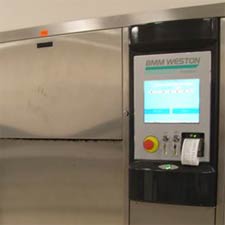 Storage cabinets for endoscopes are becoming a must have item for endoscopy units as they provide a clean environment for the scopes thus extending the storage time after disinfection.
At present there is no standard which governs the criteria which storage cabinets must comply to. Serve Medical can provide a range of tests that will look at all the functions of the storage cabinet and assess its capability of maintaining the scopes cleanliness for up to 72 hours post disinfection.
Storage Cabinet Tests
Channel air testing
Sterile test piece (shows internal lumens are not contaminated)
Inoculated test piece (proves environment inside cabinet does not promote growth of microorganisms)
Broth recovery test (Surrogate device bubbles through broth and catches any contamination coming through lumens)
Settle plates
Contact plates
Relative humidity
Channel flow measurements
Swabs